For many people, booking a ride before heading out is a common occurrence. However, for individuals with mobility challenges, especially wheelchair users, using these ride-hailing platforms can be extremely difficult. The "BoBo App" team identified numerous issues that individuals with mobility challenges face in smart travel, including a lack of appropriate vehicles, lack of transparency in fare information, uncertain reservation times, mismatched vehicle types and wheelchair specifications, and the existence of illegally modified vehicles. The team designed an accessible online ride-hailing platform to assist people with disabilities, the elderly, and their caregivers in booking the most suitable passenger transportation services in a time-saving, transparent, and legal manner.
Achievements
During the project design process, the "BoBo App" team actively contacted various partners and found that many "wheelchair vehicles" were idle and the information was confusing. After communicating with the suppliers, both parties reached a consensus on increasing the utilization rate of "wheelchair vehicles" and put these vehicles on the platform for other people with mobility difficulties to book. This kind of market resource redistribution not only effectively improves the utilization rate of related vehicle services but also provides an accessible travel experience for those in need.
The application is currently in the internal evaluation and testing (beta) stage. The team is collaborating with relevant organizations and specific users to validate its operational model before officially launching the application to the market. The application is expected to be launched in the third quarter of 2023.
Process
Inspiration
Alex of the project himself, is an individual who has a family member with mobility challenges, he often needs to help arrange transportation. Through first hand experiences in caregiving, he deeply empathises with the difficulties faced by wheelchair users. For instance, he discovered that transferring an elderly person from a wheelchair to a vehicle was a time-consuming and arduous process. If vehicles had tailgates that allowed direct boarding and disembarking for wheelchairs, it would alleviate this laborious task. However, such vehicles were not only scarce in number but also extremely difficult to reserve. These realisations gradually sparked the entrepreneurial idea.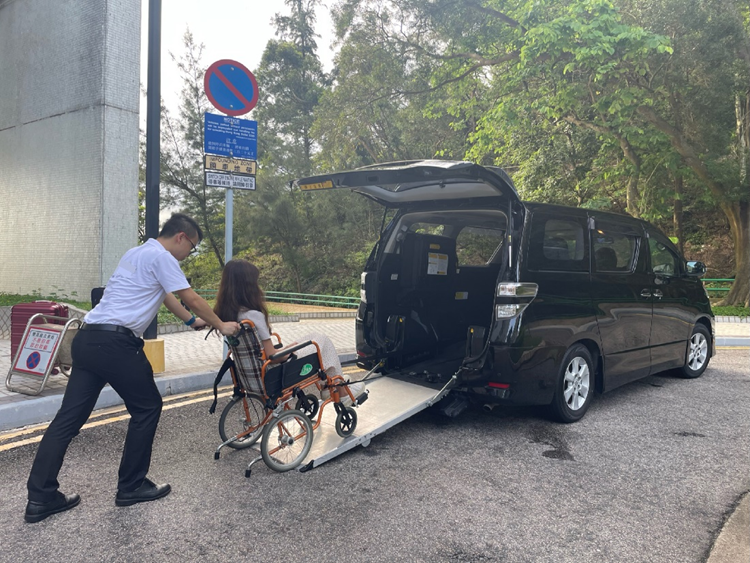 To further understand the needs of the target audience, the team conducted interviews of over seventy individuals with mobility challenges and caregivers, gathering their insights. They discovered that besides the challenge of finding available vehicles, these individuals faced other difficulties, such as unclear pricing, inconsistent vehicle specifications, frequent encounters with illegally modified vehicles, or unconfirmed reservations. For these groups, the constant occurrence of "having a booking without a vehicle" was common frustration.
After a series of data collection efforts, the team became aware of idle wheelchair-accessible vehicles scattered in society, while users were in urgent need of such vehicles. This realisation led to the idea of complementing these two aspects, and thus "BoBo App" was born.
Concept
During the conceptualisation process, the founder initially considered establishing a company-owned fleet. However, the team quickly realised that setting up a company fleet was not easy. Firstly, each company could only apply for one license, and the approval process for each license was time-consuming. If a fleet required ten vehicles, it would mean establishing ten separate companies and waiting for government approval for each one. Additionally, running a company fleet would involve bearing the daily expenses of vehicle maintenance and upkeep. The high costs of maintaining daily operations alone made it challenging for a startup company to afford. As a result, after researching alternative viable business models, the team decided to integrate existing market resources and effectively connect suppliers with customers.
Implementation
Since the platform was designed for a specific social group, the team continuously observed user feedback throughout the entire development phase. They ensured that every feature and user experience met their needs and made appropriate adjustments. Through the collection of data on vehicle reservations and user opinions, the team discovered ideas that were beyond the imagination of able-bodied individuals. For example, they noticed that wheelchair-accessible vehicles with dual wheelchair spaces were more popular among users because two passengers could share the fare, and the space was larger and more comfortable. As a result, the team added a "shared ride" feature within the application. Furthermore, wheelchair users expressed that not all wheelchair vehicles were universally compatible, as different wheelchair models required specific assistive devices for smooth boarding and alighting. To address this, the team incorporated an option in the interface to input wheelchair dimensions and filter vehicle types based on user requirements, ensuring the allocation of the most suitable transportation option.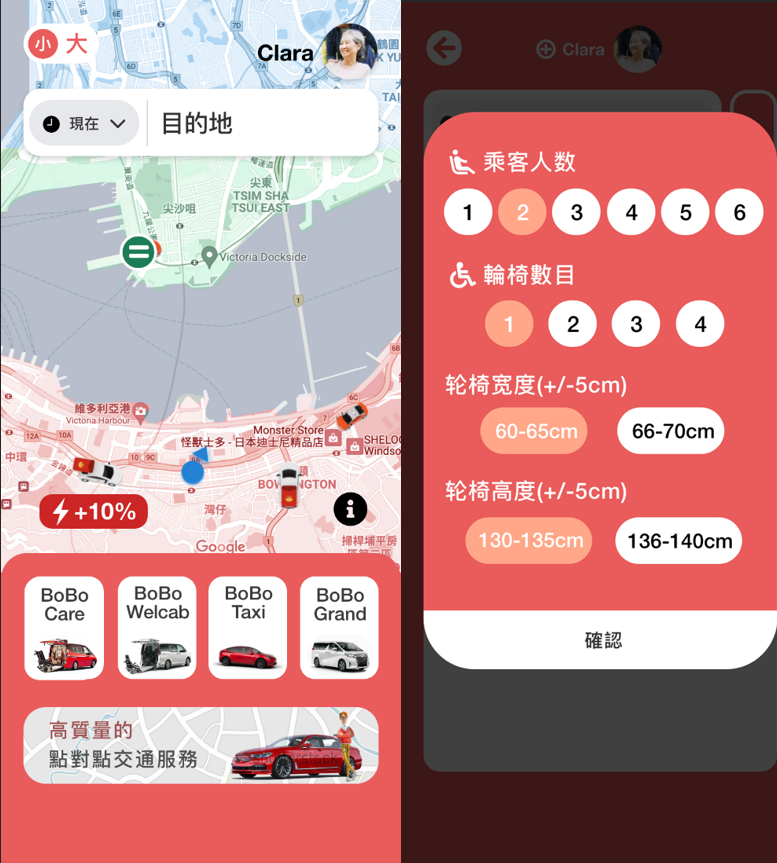 Reference:
AI driven Barrier-Free Smart mobility platform – BoBo
https://stf.hkpc.org:8443/zh-hant/cs-10-2108-ra/